The First Pro Stock Comanche
(that I know of)



Owner Builder
Gary Johnson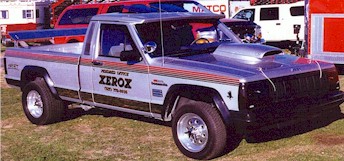 1988  Jeep Comanche 4x2 truck
Been in the family since new.
Originally came with a four cylinder, auto

Now it has!

1973 Chevy LT-1 350 30% over bore =355CI
Dart Conquest aluminum racing heads 202x160 valves
Victor Jr intake with Berry Grant 750CFM 4 barrel
Edelbrock RPM Cam
1.6 Roller rockers
Excel Digital race ignition 300plus serious
Electric Holly blue race pump, "loud"
Nitrous Oxide 250HP Bottle in the rear, Not activated yet no traction
Victor Jr racing water pump
4:10 rear posi rear
350 Chevy turbo trans built for racing
Hand built motor mounts
Four core radiator custom built





Body:
Custom rear roll pan in the rear
Custom rear spoiler
weld wheels all around
Two peace prostock hood scoop.




This winter project:
B&M Super Charger, Single four barrel unit, "another 100HP
Roller Cam 3,000 to 6,500 rpm range
Custom hand built headers through the fender wells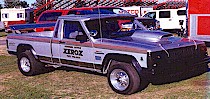 I call it my, "daylight Vampire"
It sucks all the money out of my wallet, and I have to put it away before
dark
because it's to loud!